Donate/Get Involved: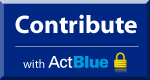 Here are some ways you can help now. Contribute money, it is needed to get our message out to voters optimally! Checks may be made payable and addressed to:

Jacobi for Assembly 2020
P.O. Box 15073
Santa Rosa, CA 95402

We have an Act Blue account for easy donating by clicking the blue and white Contribute button above and to the right. Checks are another option.
For amounts $100 or over we need your first and last name, street address including zip code, occupation, and employer's name for required campaign reporting purposes. If you are retired just indicate that please. The maximum donation per person is $4,200 for the 2020 campaign. Please add the required reporting information on a simple note with your check. THANK YOU VERY MUCH!
*******************************************************
Creating Safe, Healthy & Sustainable Communities We have LOTS OF FUN planned...so Stay Tuned
PLEASE let us know if you are willing to provide a location for a meet and greet or a starting spot for walking a neighborhood or help organize for events in the many wonderful areas of the District. (707)575 5594 for questions and suggestions. Best times to reach us are from 4 pm to 8 pm. Thank you!
*******************************************************
Volunteer for a few hours of walking or for one of our phone banks. We make it FUN! We also can get a good workout walking, or do a leisurely relaxing pace, you are in control.
Endorse Roni. Please send the exact way you would like your name to appear at the top of your message and send to VJacobi@sonic.net with "Endorsement" in the subject line.
Volunteer your home or other location for a Discussion with the Candidate party or gathering or FUNdraiser!
RSVP for events. It will be great seeing you!
...CHECK OUT "FRIENDS OF VERONICA JACOBI" & "OUR GREEN CHALLENGE" On Facebook!
We also greatly appreciate all volunteer help, and silent auction donations from yourself or local businesses and service providers.
Again, endorsements are very helpful. We would be happy to e-mail or send you a form. Please let us know if you are willing to help with any of the following: Host a house party, arrange for Roni to speak at a meeting or gathering, put up a yard or window sign, table, precinct walk, phone bank, or help in any aspect of the campaign. Please let us know what you like to do, and share your ideas and special skills.
We look forward to hearing from you!
See you on the campaign trail!
Thank you VERY MUCH!
Veronica "Roni" Jacobi
*******************************************************
*******************************************************
*******************************************************
Some PAST Events... Join Veronica "Roni" Jacobi and Norman Solomon for a discussion on Optimally Effective Activism & The Good War on Climate Change! ... 6 PM Incredible food plus wine, beer and other beverages & Music, Raffle & Silent Auction... Followed by a non-campaign event you are also welcome to join...Announcement below. Send the "Support Our Local Do Good Groups" info on to your favorite non - profits and offer to help them sign up for our next event. I plan to sponsor future "Local Do Good Groups" events for Non-Profits.)
Delicious Food provided by Worth Our Weight Café Location: Worth Our Weight (WOW) Cafe Donation: $30 per person * RSVP to guarantee entry
Conserve $100 * 2 tickets Protect $200 * 3 tickets Sustain $500 * 5 tickets
Our home. Our future!
RSVP with your email or phone by ____ for guaranteed entry If you want to attend but are low on funds contact us ASAP.

Checks may be made payable and sent up to 4 days before the event to below, within 4 days of events please pay at the door:
Friends of Veronica Jacobi...
P.O. Box 15073
Santa Rosa, CA 95402
and more.
... and now information about the "Local Do Good Groups" event. It is separate from the political campaign and the campaign will not be discussed at the Do Good Groups event, but you are certainly welcome to stay and enjoy the fun!!!
Join Former Councilwoman Veronica "Roni" Jacobi, Author Norman Solomon and ____!
Support your favorite Local "Do-Good" Groups Proceeds donated to listed local non-profits of your choice! Community Bikes, Worth Our Weight, Sonoma County Conservation Council and more! Saturday, ...Location WOW Cafe 7:30 PMSnacks provided by Worth Our Weight Café! Donation for the entire event: $20 per person, $8 Seniors, Students & under 18 ** Pay at the door
RSVP with your email or phone by ... for guaranteed entry to VJacobi@sonic.net